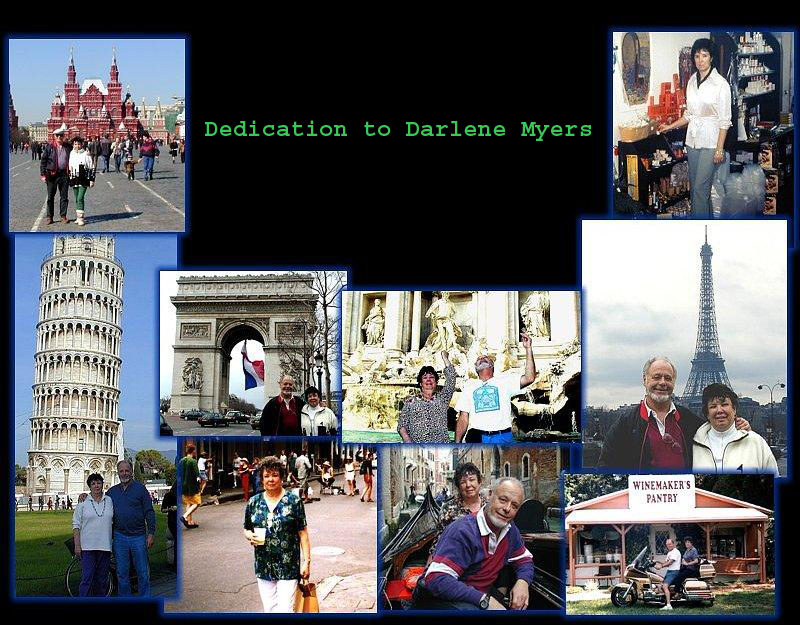 August 3, 1937 to September 28, 2008
It saddens me to announce that after three and a half years of fighting colon cancer my wife, Darlene Myers passed away on September 28, 2008. She was a fighter and never gave up. She fought to the end to stay alive until son Brian arrived to say goodbye to her. The day after Brian and his wife Elaine arrived Darlene just let go and stopped breathing. Daughter Suzanne had already made two one day 12 hour driving trips from Marianna, FL to comfort Darlene and I. I ask her not to do that again as I surely wouldn't survive if something happened to her also. Son Steven in Portland had his reservations made to come the next week but I ask him to wait and we would have a family memorial when things settled down.
Darlene and I had a wonderful life. We owned Beer and Winemaker's Pantry for 27 years and had a ball. I retired from engineering in 1994 and for the next 5 years we worked side by side for 7 days a week. Well…on Sundays I bladed and would arrive at work exhausted and would take a little nap for an hour or so. Not a problem with Darlene. Every single day was a fun filled adventure at the Pantry.
Darlene loved to have Picnics and Brunches for the Roller Bladers, the Skiers and my SPHS classmates. Between 2000 and 2004 she had 18 Picnics and 7 Brunches. In 2005 Darlene contracted the colon cancer and her Brunches and Picnics were severely curtained. However she still managed a few more.
There was something about Christmas Eve that Darlene loved. Everyone loves Christmas but Christmas Eve was a very special event for Darlene. She had a Christmas Eve Party every single year of our 42 years of marriage. She redecorated every single room of our house into the Christmas spirit. For years she put up two big Christmas Trees and about 4 smaller ones. Her mean husband only allowed her one big Christmas tree after she became ill. The Christmas Eve of 2007 we had 127 people pass through our open doors which included 70 rollerbladers, 26 skiers and 9 engineering co workers. We had a lot of good friends help with Darlene's Christmas Eve Parties and especially the last few years. This year of 2008 at Christmas Eve we will have a Celebration of Life Christmas Eve Party for Darlene. You better believe Darlene will be with us in spirit and having a grand time. Oh yes, "helpers", I need your help more than ever this year and every Christmas Eve afterwards until I'm at least 100. To everyone who reads this, this is your invitation to attend Darlene's Christmas Eve Celebration in 2008 and for many more years to come.
Darlene and I loved to travel. We did 75 trips to over 200 cities all over the world from 1970 to 2007. We managed Africa, Europe, Ireland, Iceland, Canada, Mexico, Alaska, Hawaii, the British Virgin Islands, Grand Cayman, Cozumel, the Bahamas, Cancun, Bonaire, England, Norway, Andorra, Lillehammer, Russia and probably several more places. Take a day and come over to view the pictures. You only need to glance at 42,000 or so.
Darlene had a grand time and enjoyed life. Even though she didn't actually blade or ski, she was a roller blader and skier in spirit and was just as important to the skiers as anyone on skis and to the bladers as anyone on wheels. She had an enjoyable time entertaining and cooking. Her elegant brunches and picnics made a lasting impression as one of the highlights of many of the skate and skiing activities up to the time she passed away. Thanks to all for the help in her last years of life.